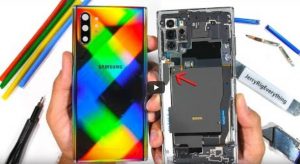 Samsung Note 10+ Teardown – TWO Wireless Chargers?

The Samsung Galaxy Note 10 Plus 5G is ready to be taken apart and reviewed from the inside. The Note 10 Plus is one of the most expensive, and feature rich flagship phones on the market right now. And today we are going to take it apart and see what the guts look like. The Note 10 Plus has a stacked mother board, 5 cameras, and a vapor chamber to keep the whole thing cool.
Yeah the battery is glued into the frame, and the Note 10 screen is the last thing to be removed. Its not a very 'repairable' phone. But it is definitely time for Samsung to add pull tabs to the battery.
this post from JerryRigEverything