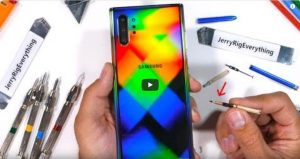 Samsung Galaxy Note 10+ 5G Durability Test – is the S-Pen Worth it?

The Note 10 Plus 5g is ready to be durability tested. Prevent scratches to your phone with dbrand: https://dbrand.com/powerpuff Thanks to dbrand for sponsoring this video. Every year Samsung comes out with several new flagships. This time around releasing Notes. The Note 10, The Note 10 Plus, and the Note 10 Plus 5G. Yeah, its getting hard to keep track of these days. Its time to take the most powerful of the three, The Galaxy Note 10 Plus 5g, and see how well it can stand up to one of JerryRigEverything's durability tests. Lets see what this Note 10 Plus is made of.
The Note 10 comes in 4 colors, the Aura White, Aura Black, Aura Glow, and The Note 10 Plus also has Aura Blue.
this post from JerryRigEverything